Women's Fashion at an affordable price
Do you need a gift for your girlfriend, wife or mother then is By Harper to the right place for you. By Harper is a shop for women and they sell women's clothing, jewelry and accessories.
A webshop who has it all
By Harper is not just a standard shop. The design must keep the customer on the site. Together with the owner of By Harper we have made this design and color scheme and implemented on the website and offline components.
Because they not only focus on the Dutch market, but also on the European market, it was important that customers can choose different payment options.
And because nowadays almost everyone visiting a website or webshop on a mobile device, it is important that this shop also look well on these devices.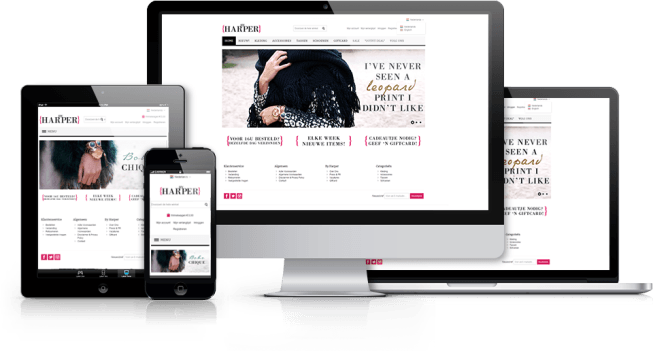 Keep customers informed
Your existing customers will remain important for your shop and this also applies to By Harper. Therefore, a newsletter link is created, and a link with social media. For example, customers remain aware of the latest fashion items.
Easily manage your shop
For this shop we use the well-known CMS system 'Magento'. This allows the administrator to easily manage the products and payments.
Speed ​​is profit
It is a fact that a rapid webshop attract more customers than a slow webshop. Therefore, we ​​use a special magento hosting to ensure speed.